s2n117
New Member


member is offline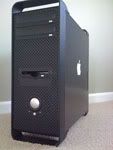 Joined: Nov 2009
Posts: 7
Karma: 0
Snow Leopard and FX 3700 OK?
« Thread Started on Aug 7, 2010, 2:59pm »

---

This is a screen shot of my hack, it used to have a 9500gt I just replaced it with
a 8800gt flashed with a rom from this page it works great, but I would like to
know if its performing good, are if it can be better. SL 10.6.4 i5 MultiBeast
working 100% with flashed Quadro FX 3700. Also Will other Flashed cards Like FX 5600, 4500, 5500, and Others be just as easy as using MultiBeast. and are there other Roms like Quadro FX 3800, Fire GL, That we can use with our Snow Leopards.